"I spend more waking hours with your husband than you."
— what my boss said to my wife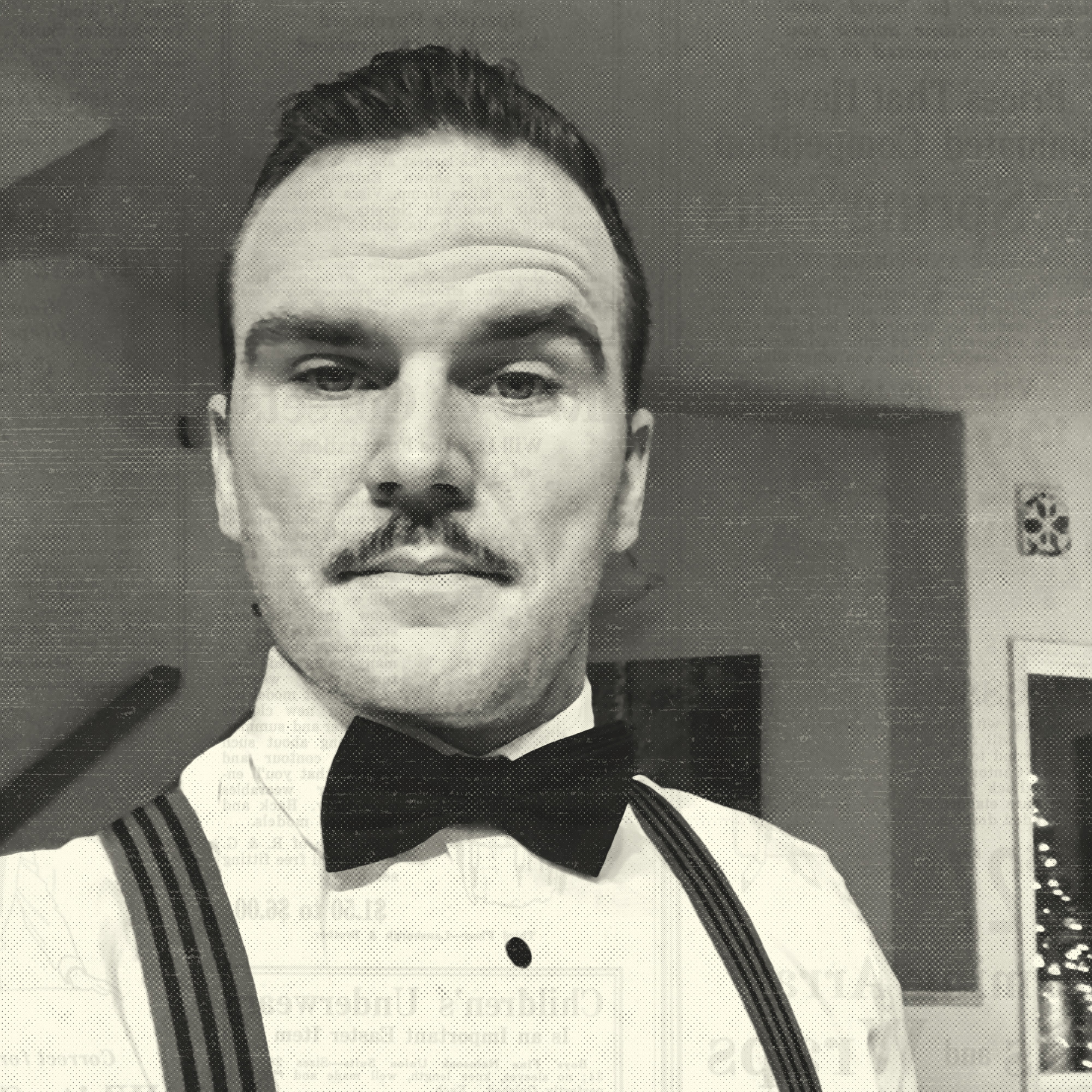 That's when it clicked for me.
During a cocktail party in 2011, when my boss was trying to convince my wife that I should grow a big, dirty moustache for "Movember."
In fact, my boss did spend more waking hours with me than my wife did (I did the math).
When did I consent to give my boss more of my life than the one person I loved most?
Was it when he offered to pay me a fair salary?
Even if I were to be paid double (which never would have happened, btw), would it still have been worth it to give most of my life to my boss and his business?
In the hopes that, one day, I'd have more time to spend with my family?
I knew something had to change.
In the meantime I'd been freelancing on the side, and I danced with the idea of quitting my job to work full-time as a freelancer.
"But what if it doesn't work?"
I knew that quitting my job to start my own business was risky.
But it was a risk worth taking, even if it resulted in failure and having to find another day job.
I would feel good knowing that I tried.
"But what if it does work?", I thought to myself.
The possibility of success, and everything it stood for, ignited a fire underneath my rear.
One year later, I quit my job.
I did so on good terms, and with enough client work to sustain my wife and I for a few months, until I figured out how to create a consistent income as a freelance web designer.
The freedom I experienced in my 1st year as a full-time freelancer was incredible.
It was the simple stuff, like:
No longer waking to an alarm clock

Working from my home office

Setting my own work schedule

Taking extended lunch breaks with my wife
And it was the big stuff, like:
Taking my family to Hawaii, and working from the lanai overlooking the emerald ocean

Not having to risk my life in rush hour traffic every morning

Helping raise my baby with my wife

Hitting my first 5-figure income month through my own efforts & hard work
I was overjoyed, earning an income doing work I loved, and experiencing freedom unlike I'd ever dreamed of before.
The $708 wake up call
Then, after months of enjoying steady client work and word-of-mouth referrals, I hit a dry spell. Just months after my wife gave birth to our first child, my total monthly income plummeted to $708.
Barely enough to cover rent, let alone provide for a growing family.
It didn't take long for me to realize that part of the "deal" of being in business for yourself as a freelancer is the inconsistent income.
Also known as "Feast or Famine".
#rookiemistake
It seemed I was left with two options:
Surrender my family's financial stability in order to selfishly pursue a business that's proven to be unstable.

Or, surrender my freedom and flexibility for the drudgery I thought I'd put behind me forever.
Instead, I created a third option:
Double down on my business, and find the formula for income stability (preferably 6-figure income stability.)
So, I got to work on hunting down that formula.
Does this sound like you?
In the hunt for new clients and the formula for 6-figure freelancing, I tried all of the tricks in the book.
👎 Comb through job boards & bid for cheap gigs on freelancer marketplaces
The job boards are always looking for over qualified people with years of experience
The marketplace gigs are highly competitive, and never pay well
A great way to waste hours of time
👎 Post on social media in the hopes that your friends will hire you
Soon you realize that there are only so many times your friends will put up with that before ignoring you completely
👎 Lower your rate to attract more clients
This only attracts bad clients who are difficult to work with
And now you need to work with twice as many clients in order to hit your income goals
👎 Start blogging & wait for traffic
Did you get into this to be another starving blogger, or to make a good living as a business owner?
👎 Buy some ads
Where should I buy ads?
Who do I market to?
What should it say?
I can find better ways to burn $100 per day.
Seems like a good way to fail horribly, really fast.
👎 Start cold calling
Honestly, there has to be a better use of my time that doesn't involve seeking rejection on purpose.
👎 Hope & pray for referrals
Listen, I'm a praying man, but God isn't your virtual assistant.
👎 Hand out business cards
I've spent hundreds of dollars on all different types of business cards, and thousands of dollars on conference tickets in order to exchange cards after having a dead-end conversations
And I've seen exactly zero return on that investment.
After exhausting all of my efforts for drumming up consistent business, I thought, "there has to be an alternative to hunting for work."
And that's when I found it, the alternative way, the "formula".
Compare that to today.
In the past, I would hope for clients, chase down leads, and undercharge my services because I was afraid to lose a potential client.
Not anymore! My business has been providing for my family for nearly 10 years now, and I can tell you it's definitely NOT because of the old approach I used to use above.
Now, I no longer chase clients down because I need their money.
Instead, clients seek me out because they need what I have to offer.
Which means I get to choose who to work with.
Then the demand increases.
As does the income (the 6-figure income, I will add).
It's a much less stressful way to build my freelancing business.
But you know what's way more exciting to me?
Life looks more like this now:
I take Friday afternoons off

(to spend time with my wife & kids)

I don't fret over surprise expenses

(like vehicle maintenance, a costly bill, or ordering Skip the Dishes a couple of times a week)

I see money as a renewable and plentiful resource

(rather than a scarce commodity that is hard to come by)

I stop worrying about where my next client is coming from

when I close my home office door for the evening
Best of all, I've built a business that supports my desired lifestyle (which for me, is 100% family-oriented).
You can build a sustainable, growing —even 6-figure—business as a freelancer, too!
And you can do it without having to:
Chase down leads (what if they came to you instead?)
Bid for cheap marketplace gigs (what if you only worked with clients with a specific budget?)
Work with every client who comes your way (what if you could turn most away?)
Undercharge your services (what if your rates were triple what they are now?)
How would that change your outlook on your business, your life, your freedom?
How do you achieve a life of freedom and build a "completely booked", business as a freelancer or service professional?
Imagine you invited your family on a hike in the Rocky Mountains. The landscape is beautiful and inspiring, but you're also aware that there is risk involved.
With its rugged terrain and dangerous wildlife lurking in the shadows, it's your job to make calculated decisions that will end with a beautiful family portrait of your big achievement.
Do you:
Lead your family into dangerous backcountry, without a map, proper gear and against the advice of an experienced trail guide?
Or, follow an established trail which leads you exactly where you plan to go, aware of potential risks, and with the proper gear?
I think you know the answer!
I've been building my business for nearly 10 years and have sold more than a million dollars of products & services to customers in nearly every country of the world.
That's a decade of hard work, experience, and experimentation. I've already charted a path through the backcountry, so to speak.
You're more than welcome to try this approach, but it's hard, and certainly not the path I'd take if I started again from scratch.
The absolute, best way for new freelancers to succeed?
Learn from somebody who has done it successfully.
And that's exactly what I'm offering to you in my signature course & coaching program for freelancers & service professionals.
This isn't your typical online course.
Most online courses:
Regurgitate info from the real experts.
Throw in a Facebook group because Lord knows we all need more Facebook in our lives.
The course creator doesn't show up and doesn't care about your success in the program.
Slap on a $1997 price tag to make you think you're spending less than you really are.
And Bob's your uncle.
My course? You won't get this anywhere else.
Why? It is my personal decade-long experience:
As a professional freelancer & 6-figure business owner
Earning an income that I would never get from a job
Selling more than a million dollars in services, products & programs to customers in nearly every country of the world
Collecting huge wins and messy failures
Working from home, as a busy father & husband with a tiny virtual team
Spending no more than 30 hours per week on my business, and taking Friday afternoons off
Distilled into a playbook that you — yes, YOU — can follow, right from where you are sitting at this very moment.
So you can learn from my best, most successful business strategies (and avoid the biggest pitfalls every freelancer makes), apply it to your business, accelerate your progress, and start experiencing big results (in a shorter period of time).
This course includes 12 modules, an exclusive, invite-only mastermind community full of passionate entrepreneurs, and weekly coaching sessions and workshops with me and our students.
Here's an inside look of exactly what you'll learn in this course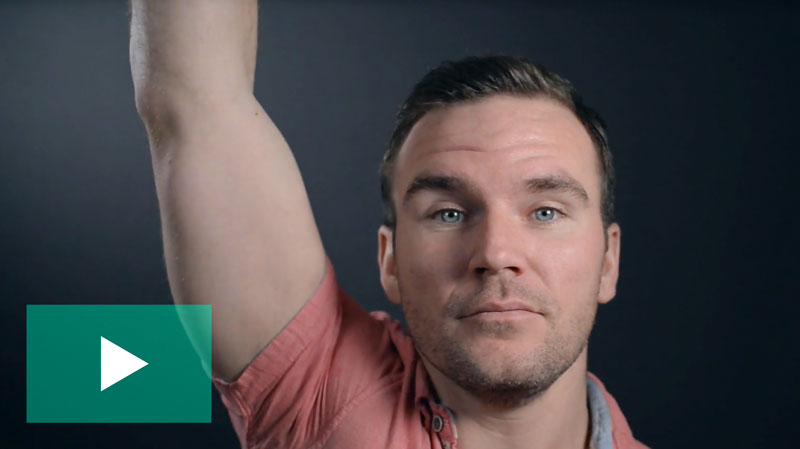 Module 1: Foundations
Build a strong foundation for 6-figure success
What you'll learn:
Mindset mastery
Your "blue sky dream"
Planning for success
Your mission, vision & values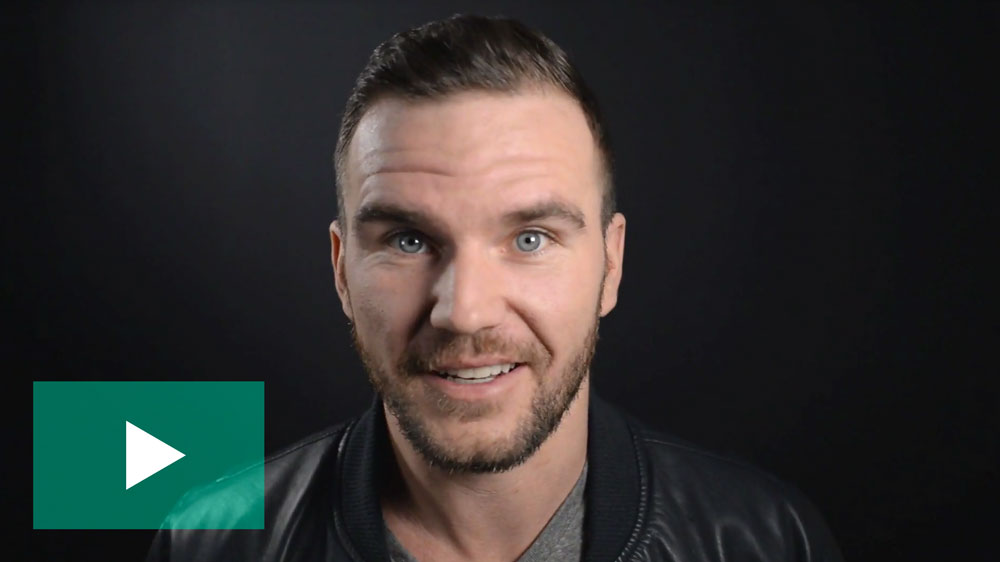 Module 2: Planning & Productivity
Identify, action & optimize your plan
What you'll learn:
Find good business ideas
How to be 90% ultra-productive
Determine your core focus
Establish habits for success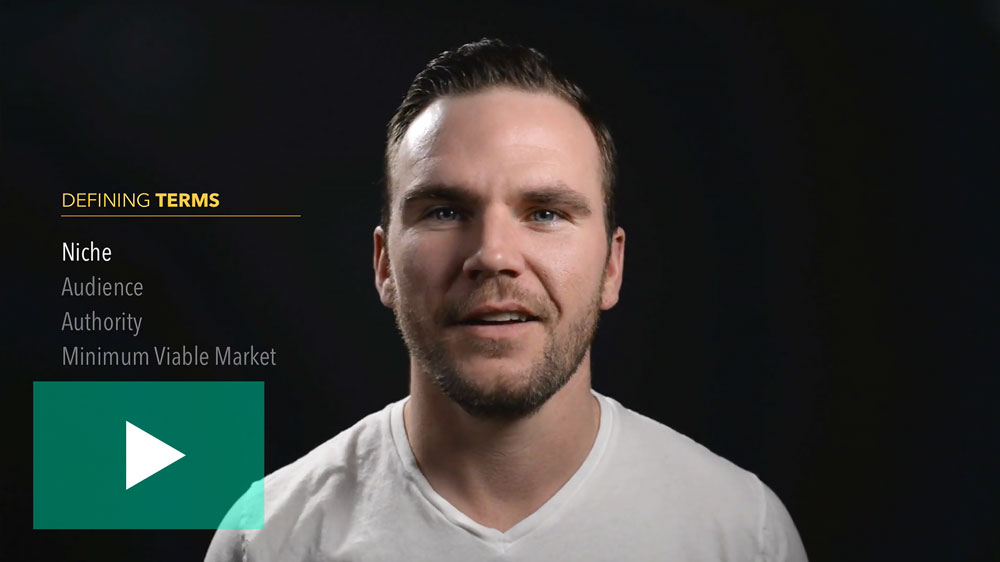 Module 3: Your Niche
Be the big fish in the small pond
What you'll learn:
Find "viable" and profitable target markets
How to talk to your potential niche
Uncover the "neck bleed" problem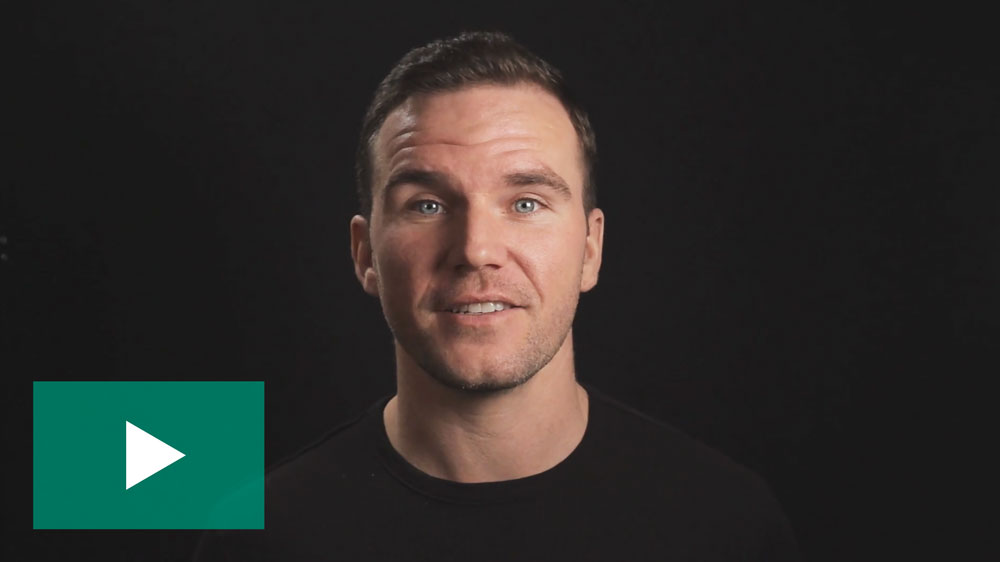 Module 4: Your Offers
Create irresistible services & products
What you'll learn:
How to validate an offering
Find out what your niche needs
Build a "Triple Threat" lineup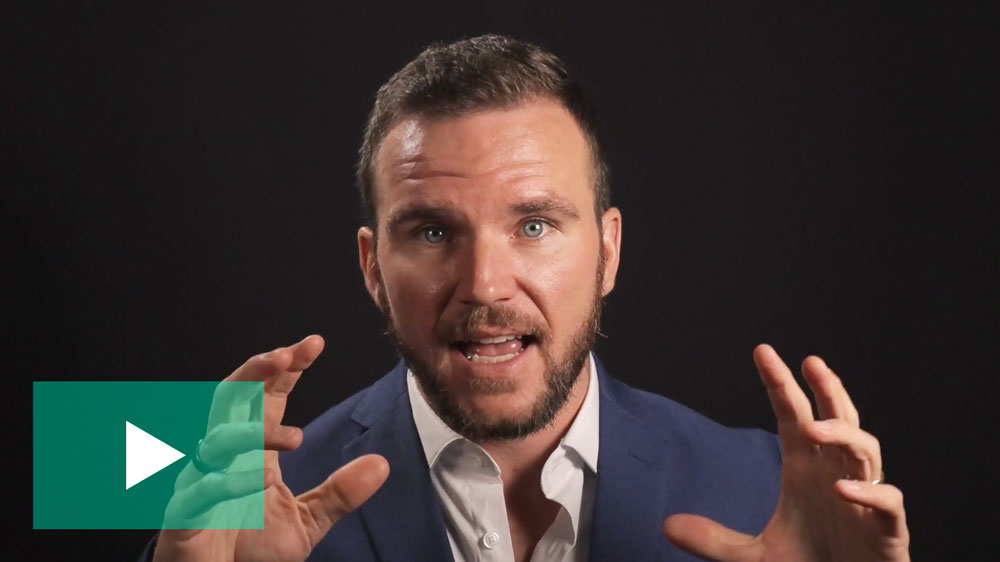 Module 5: Perfect Pricing
What to charge for your products & services
What you'll learn:
How your price affects who you attract
Stop selling time & skills
How to charge based on value
The pricing models that matter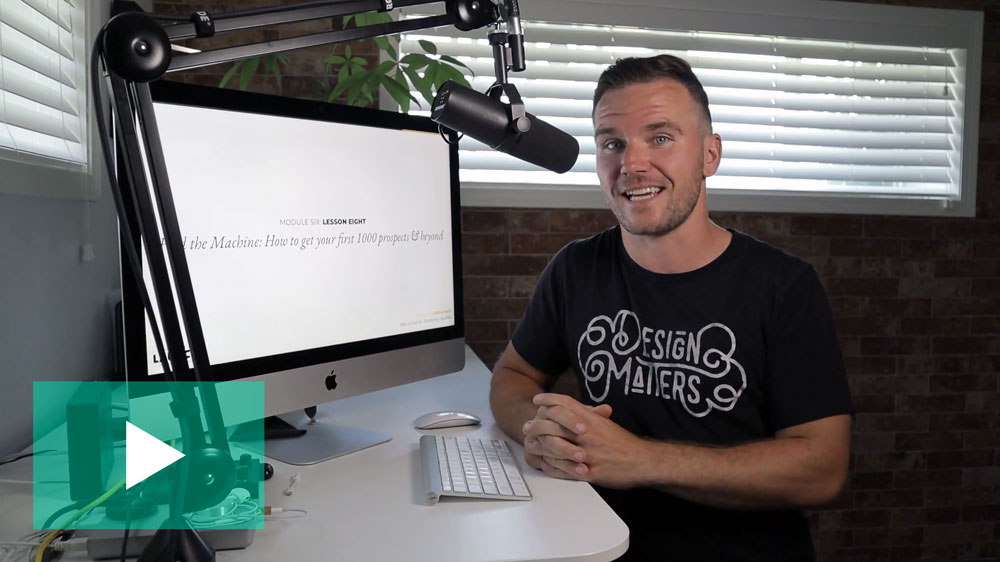 Module 6: Marketing & Promotion
How to market & promote your business
What you'll learn:
Generate consistent cashflow
Building a referral loop
Growing your email list
Build an automated sales & marketing machine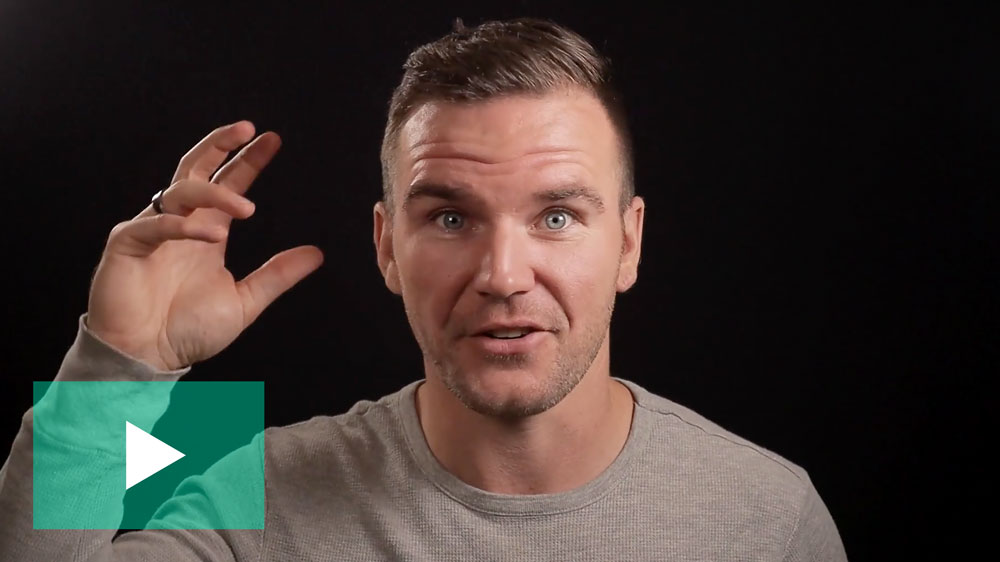 Module 7: Business Management
How to manage your business like a pro
What you'll learn:
Using leverage to grow your business
Managing time, money & clients
Client relationship management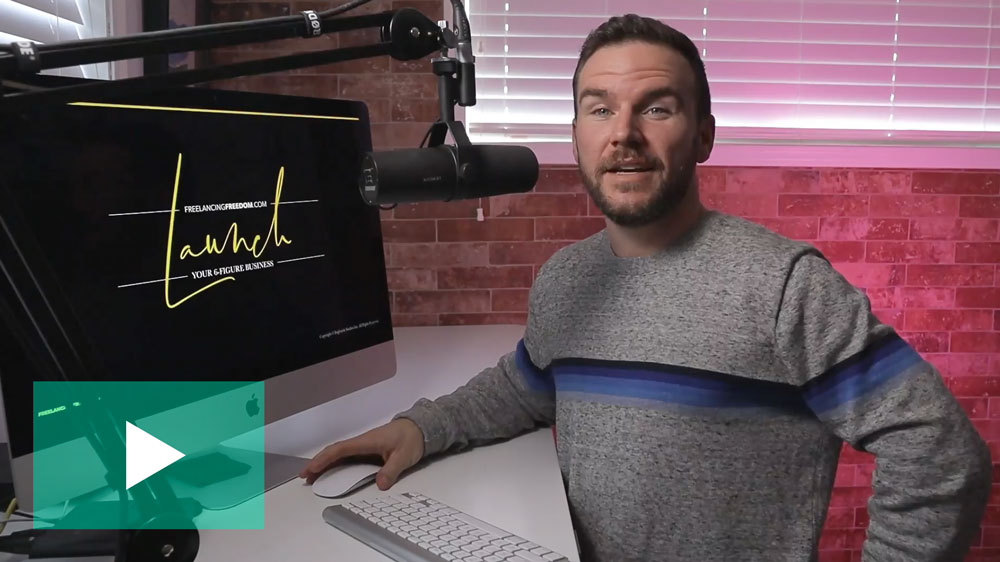 Module 8: Your Website & Brand
What your website & brand should do for your business
What you'll learn:
What your website should do
Understanding branding basics
How your "brand" affects the clients you attract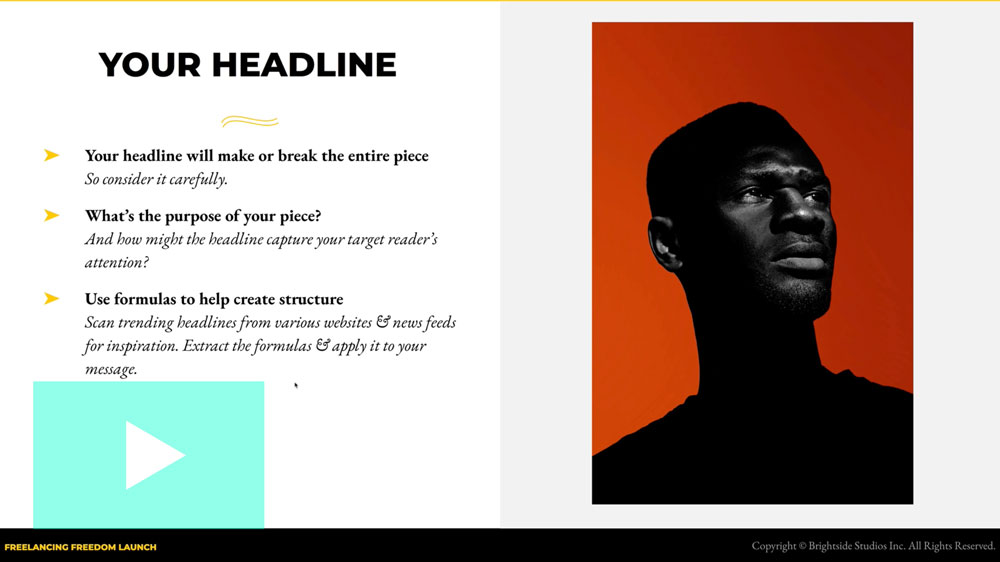 Module 9: Sales
How to sell your products, services & programs without losing your soul
What you'll learn:
How to sell authentically
Sales copywriting basics
Sales conversations
Sales resources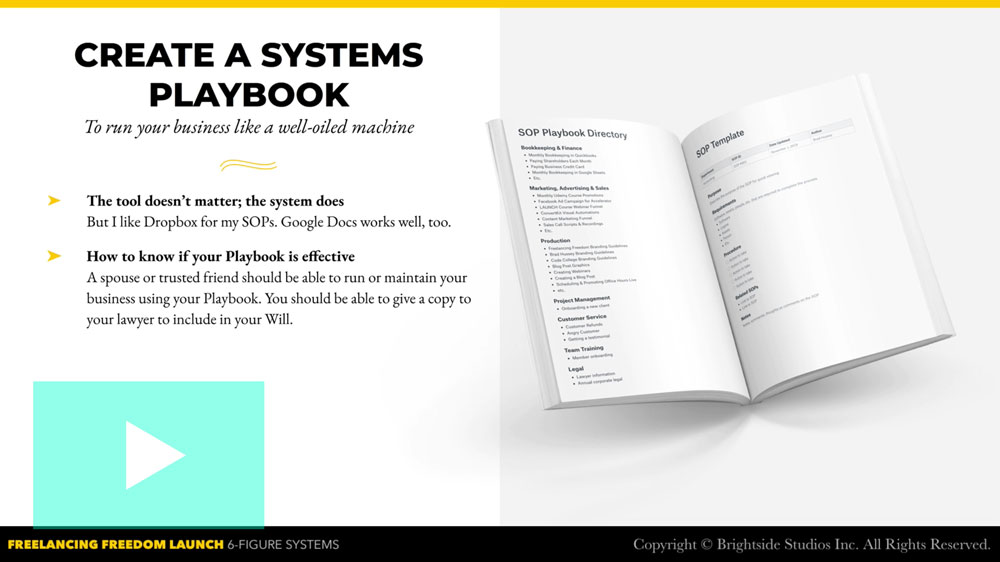 Module 10: Systems for Running Your Business
Make your business run like a well-oiled machine
What you'll learn:
How to write & deploy Standard Operating Procedures
How to delegate tasks to Virtual Assistants & Team Members
How to create efficiency in your operation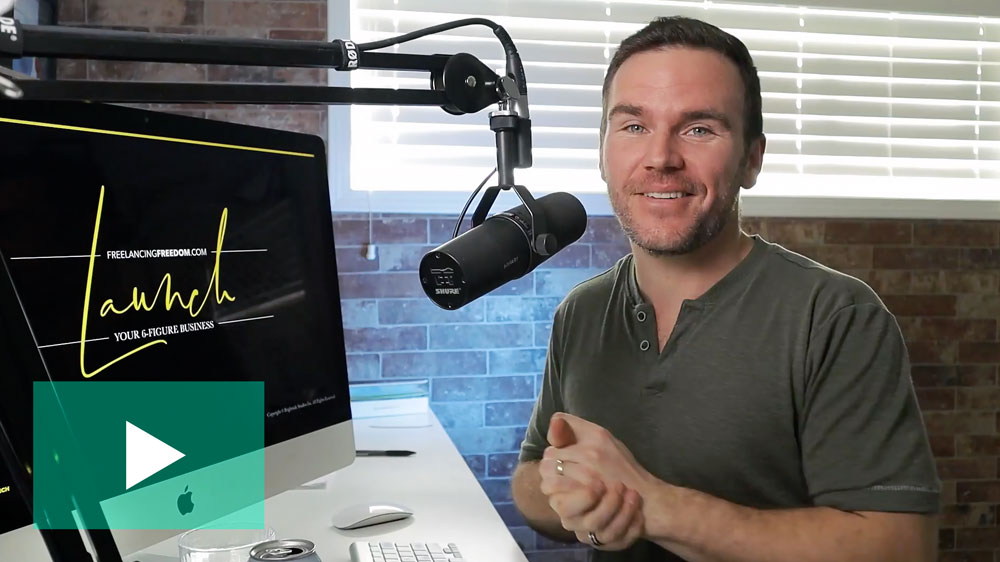 Module 11: Productization
How to create additional revenue streams through products, programs and productized services
What you'll learn:
Leverage your expertise
Create a productized service
Create a product, course, or coaching program
How to produce your first product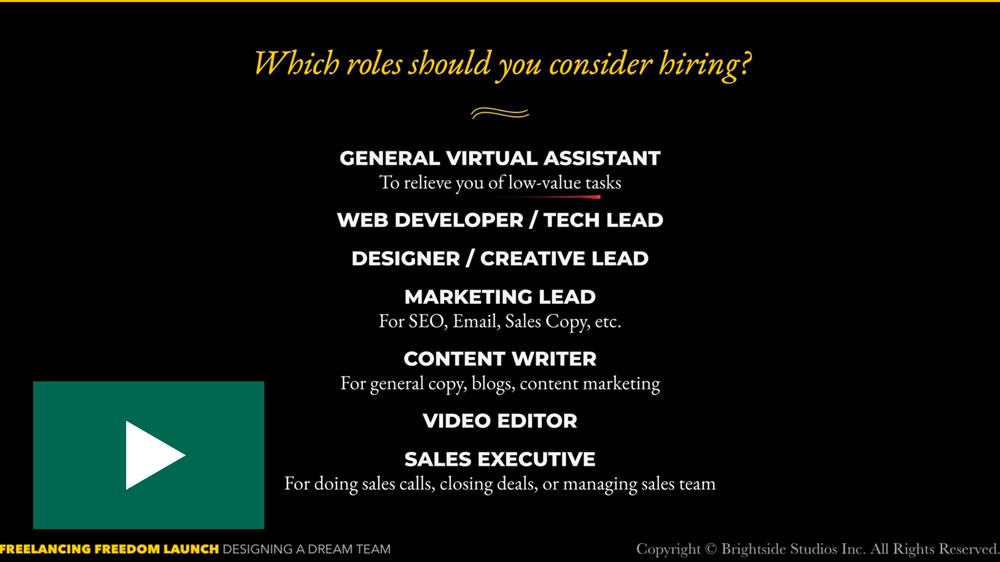 Module 12: Building a Team
Hire & manage a virtual team
What you'll learn:
Hiring & managing virtual assistants
What to look (and look out) for
Who to hire
Where to find reliable team members
How to afford a team
Also included in the program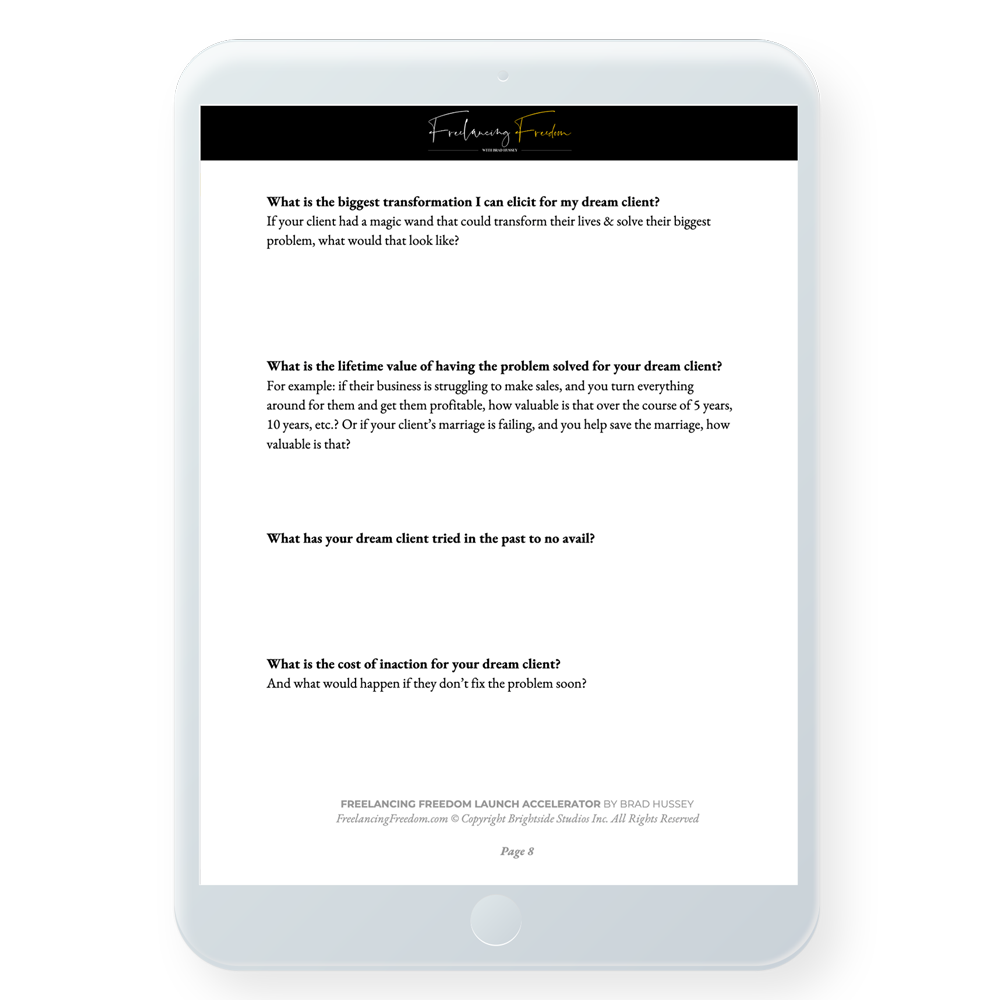 Workbooks, Checklists & Exercises
We provide additional materials to help you apply & retain everything you learn in each module of the course, so your business will make consistent progress as you progress through the program.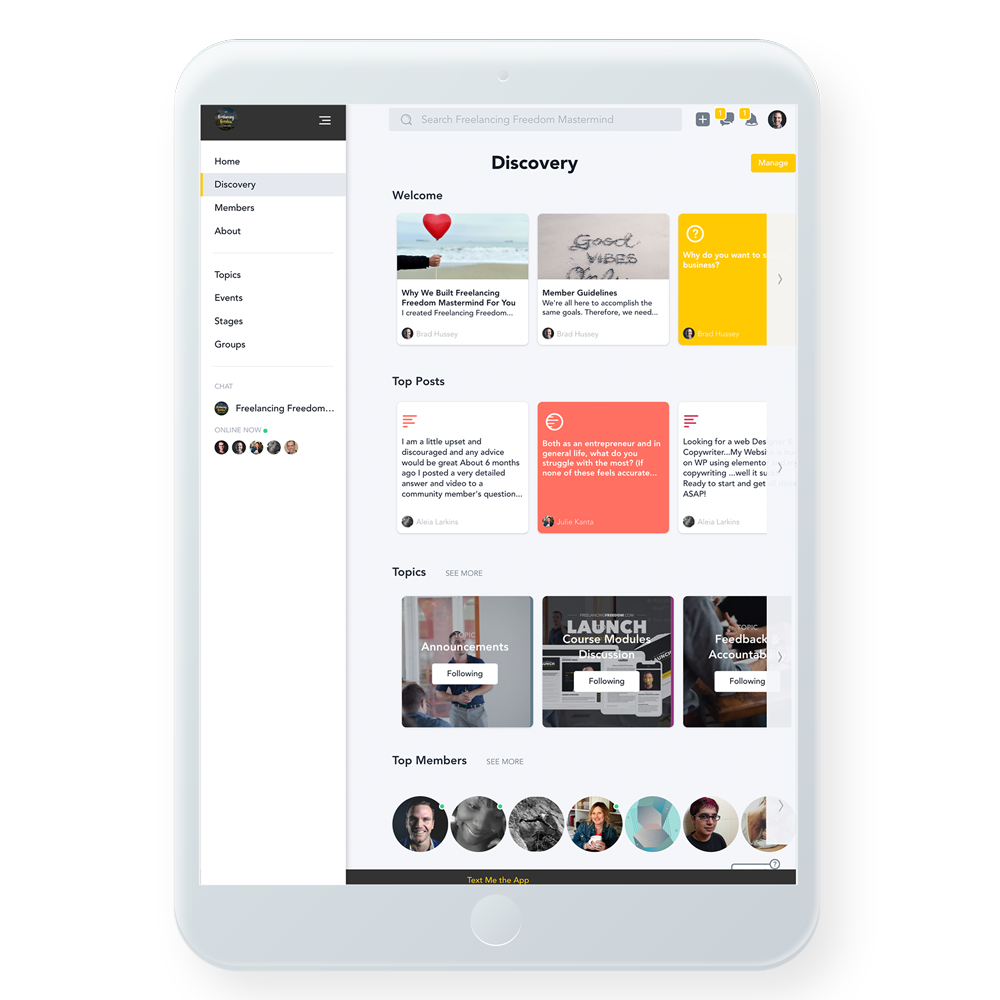 Exclusive Mastermind
You'll get a full year access to our exclusive Mastermind for Freelancers, Service Professionals, Coaches & Consultants. Network with your colleagues, send & receive referrals, and get real-time accountability of from peers.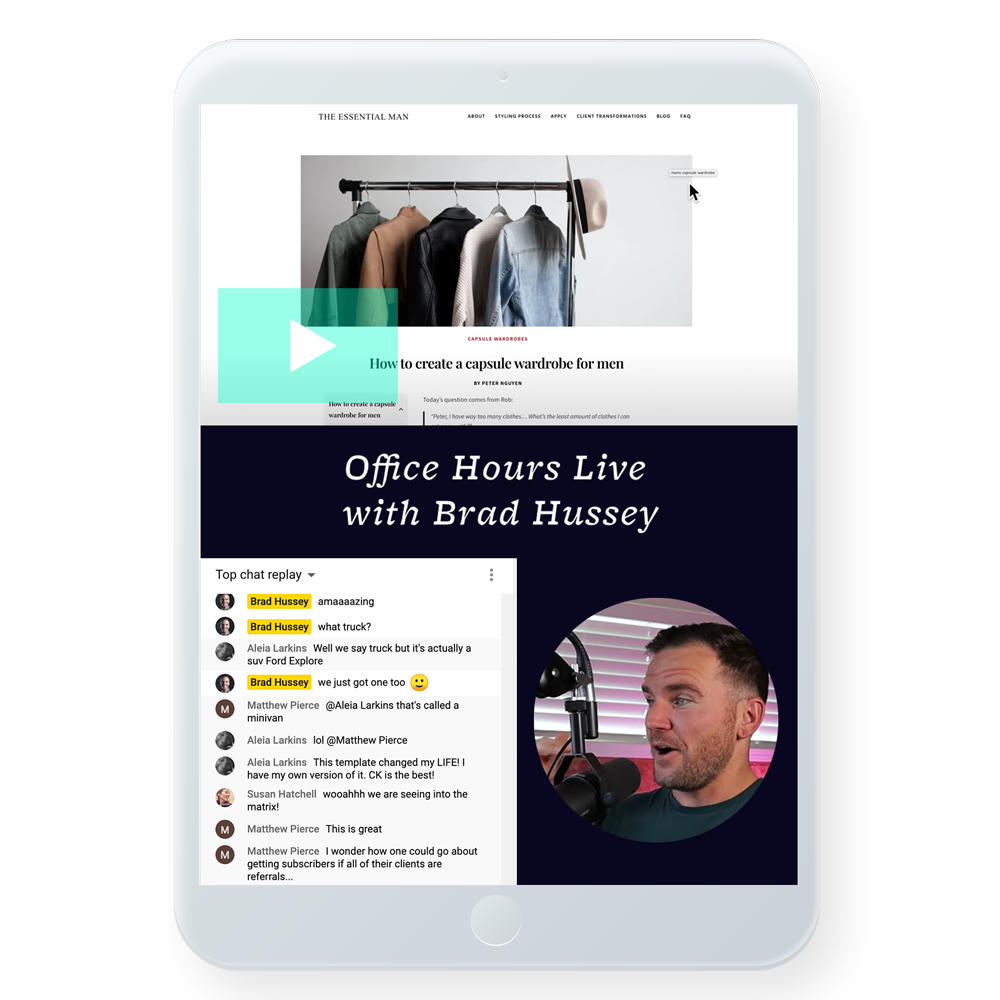 Live Office Hours & Workshops
Every week we host office hours where you'll get your questions answered, feedback on your marketing materials, and live coaching from Brad Hussey. Plus, each month we host a marketing workshop to help you with Marketing, Sales, Copywriting, and Design so that you can keep your business skills up to date.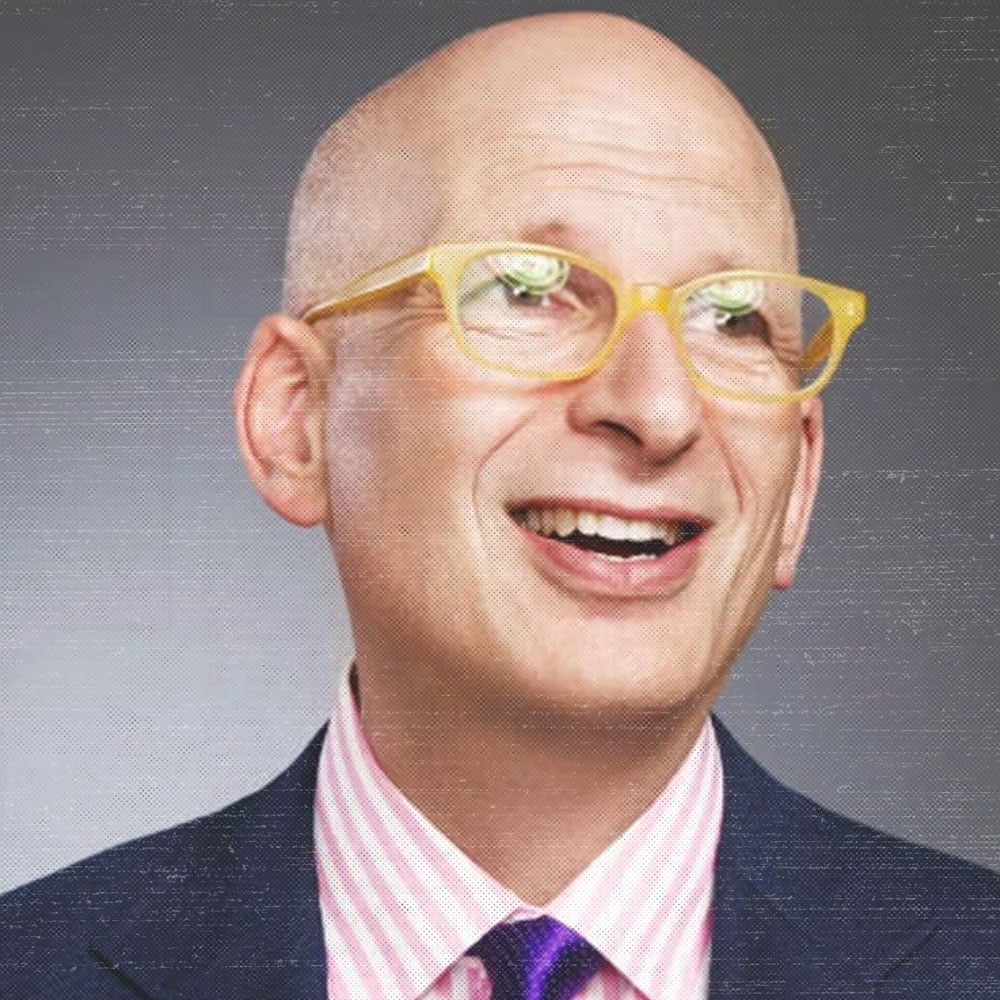 What experts say about freelancing
You don't have to settle
"You don't have to settle for being a cog.
You don't have to settle for being easily categorized, sorted and ignored.
And you don't have to settle for being the lowest bidder.
In fact, every successful freelancer has figured out how to make a living (and a difference) by following a simple but difficult principle: get better clients."
— Seth Godin, world-renowned entrepreneur, best-selling author, and speaker
Our Guarantee:
"Get booked (or your get money back)"
Here's how it works:
We've put years of effort, production and value into this course and we're certain its worth 10x the price you pay.
That said, if you don't feel the program is worth what you paid, simply email us within 30 days of joining and we'll refund 100% of your money.
And to sweeten the deal, if you don't land a client within 180 of joining, we'll make it right.
Simply show us that you've followed the course material, completed the workbooks, and made an honest effort to land a client. If after all of that, you haven't landed a paying client within the first 180 days, you can have your money back.
How can I offer such a good guarantee?
I'm confident that everything we offer in this program will give you ability to land clients.
Why do you have to "show your work"?
If you're serious about building your business, and achieving freedom, you're going to be putting in the hard work anyway — so it will be easy for you to show us that you've made a solid effort
I only want people who are serious about their business, and seeing results — asking you to "show your work" protects me from wasting my time with students are just looking for a free ride.
You'll never again be confused about how to get your next client.
By the end of this program you will be a remarkable freelance business owner, with more confidence, clarity and clients than you had before you joined us.
The business skills, sales & marketing strategies and management principles you learn in the course will serve you tenfold, a hundred-fold, and even more over the course of your career.
You will never again be confused about how to build, grow and manage your business — whether it is your current freelance business, or a new online business venture you start in the future.
So I'd like to make you an offer. When you join the Launch Program today, you'll instantly get:
Lifetime Access to 12 modules of freelance business, marketing & sales training. This includes more than 15 hours video, audio, and printable lessons delivered into management lessons you can take at your own pace.
1-Year Access to our Private Mastermind of freelancers, creatives and other service professionals building their business alongside you. You'll get 24/7 support, accountability and networking so you won't be doing this alone.
Weekly Coaching & Live Q&A so your questions & struggles will always be addressed. You won't be left behind!
Expert Live Workshops to keep your marketing, sales, design and business skills up to date.
If I told you that you'd get access to all of this for less than the price of one paying client, would you take me up on that offer?
Think about it:
What is a single client worth to you?
What is that client worth if they refer you to 3 new clients?
If I could help you successfully raise your rates by double, how much more income would you earn per year?
If I could help you replace your current income & work for yourself full-time, what's that worth to you, your spouse, or your family?
If you were to do all of this on your own, how much would that cost you?
You could have all of the above, for a single payment of $1000.
Click the button below to join us today, and never be confused about how to land your next client again.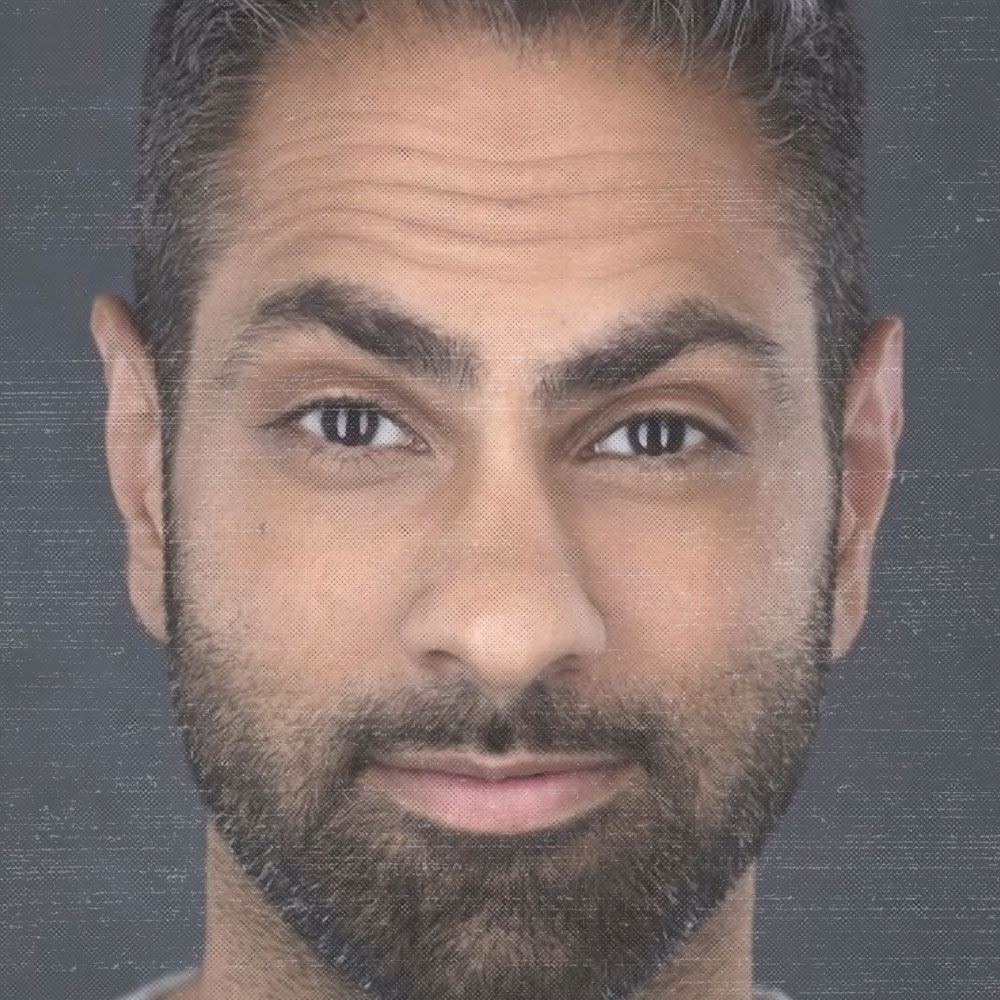 What experts say about freelancing
Learning how to freelance is an important skill that can help propel you towards having a Rich Life.
"Getting started isn't as difficult as you'd think either. All it takes is the right systems"
— Ramit Sethi, New York Times bestselling author & entrepreneur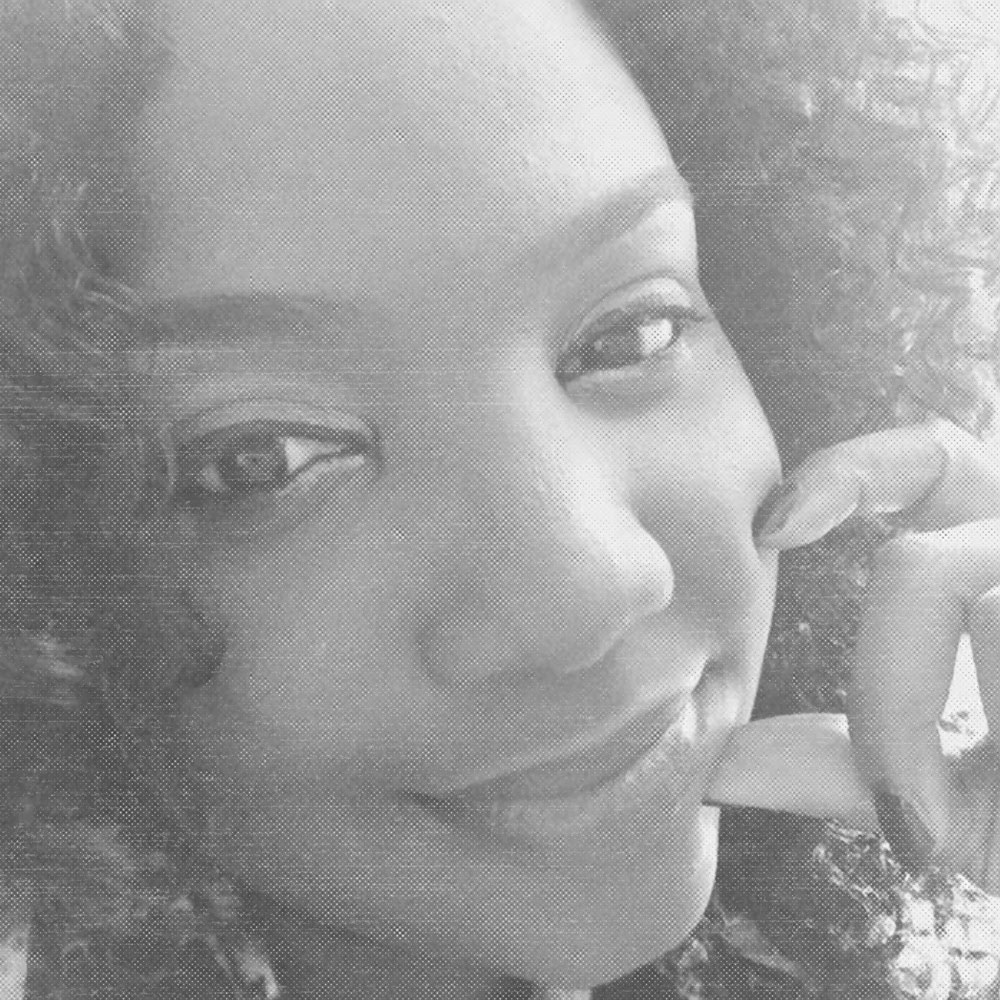 Student Testimonial
Aleia landed 14+ clients and reached her six-figure income goal
"Within 2-weeks of joining, I landed 14 clients and I'm excited to say I've since hit my goal of making an annual income of six-figures!
The Freelancing Freedom program is literally the blueprint if you want to start, maintain, and elevate your business. Brad is an amazing teacher who brings humanity back to entrepreneurship.
His dedication to his students success is something I unfortunately have not encountered in many other programs, however he definitely puts effort to not only lead with his program but to lead by example as well.
If you have been contemplating starting your entrepreneurial journey I encourage you to trust the process and join the Freelancing Freedom program. There's no better choice to go from employee to empire!"
— Aleia Larkins, founder of Gridaverse Creative Group
Student Testimonial
"When I joined, I was freelancing on the side and wanted some guidance on how to take it full-time. It took a year and a half, but I made it happen!"
"I am now a full-time freelancer. I wake up every morning and get to do the work I love. It's the dream I had in my mind 2 years ago - fully realized. 
I've really loved working with both Brad, his team, and everyone in the community because anytime I have a question I know there's someone there with more experience than me and they have an answer to my question.
If you're someone who wants some direction and want to work with an honest guy, I definitely recommend Brad, this program and hope to see you in the community!"
— Darren Alderman, No-Code Consultant at AmbleMind
Student Testimonial
"Brad honestly takes such an interest in the success of his students."
"I'm not the only one for whom this past year's been uncertain, but I'm afraid to say I let it get to me. When we went into lockdown… I lost my mojo. 
I lost hope. I stopped putting the work in, and I quit making progress in my business. Overall, I was in this slump for nearly three months. Though it didn't take even a month for Brad to notice my dropped participation in the mastermind. When he noticed, he reached out to me personally to ask what was up and help me get back on track.
I'm telling you this because even with that three month slump, I've still done better (in terms of finances, and lifestyle) than my previous year with my full-time job at a marketing agency. Now, I'm back on track and doing better than ever. I can't wait to see what next year brings.
You have to put the work in, but if you show up with curiosity and drive, Brad will help set you up for success."
— Matthew Pierce, Dev for Designers
More Student Testimonials
Our students are web designers, coaches, consultants & service professionals.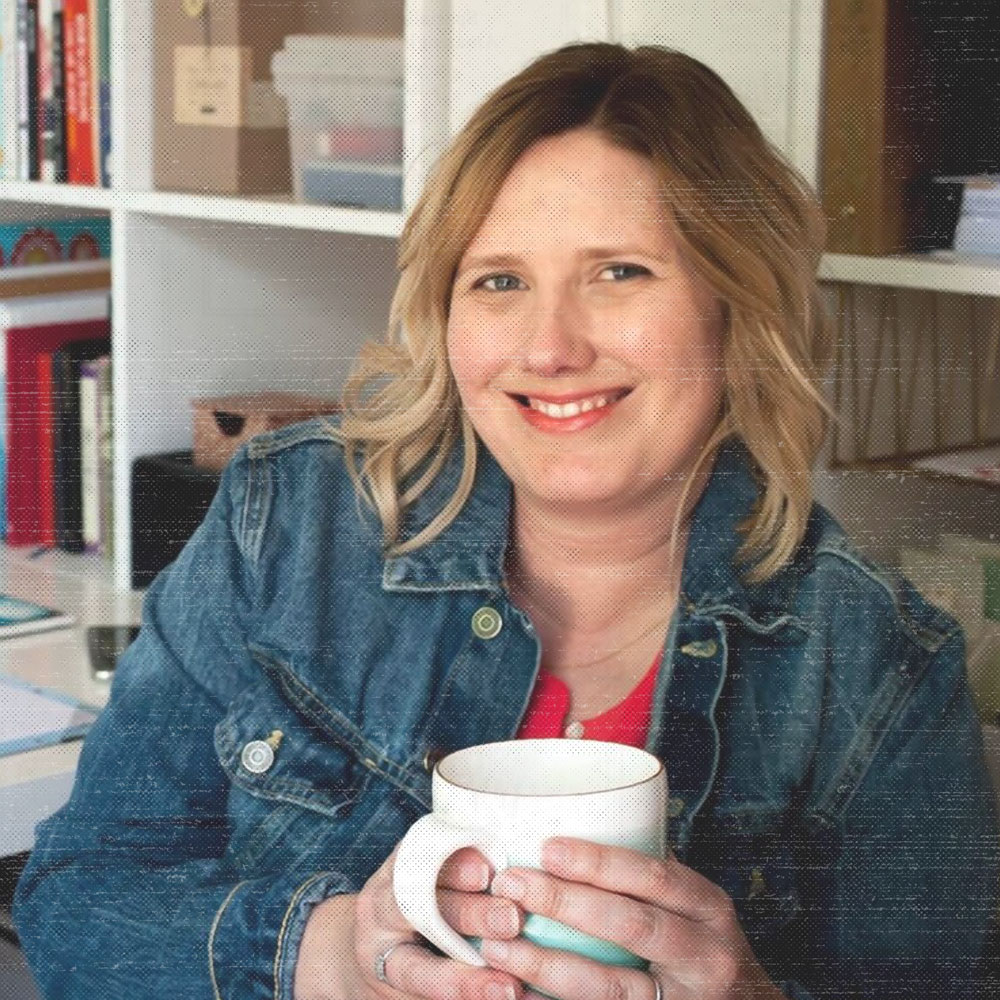 Julie Kanta, Designer & Founder of Plumb Creative
"I am making more money, even after taxes, than I ever have before in my life, and it isn't by working for someone else, it's by creating the business I love. Brad, you helped me do this. I so appreciate the effort you have put in for me."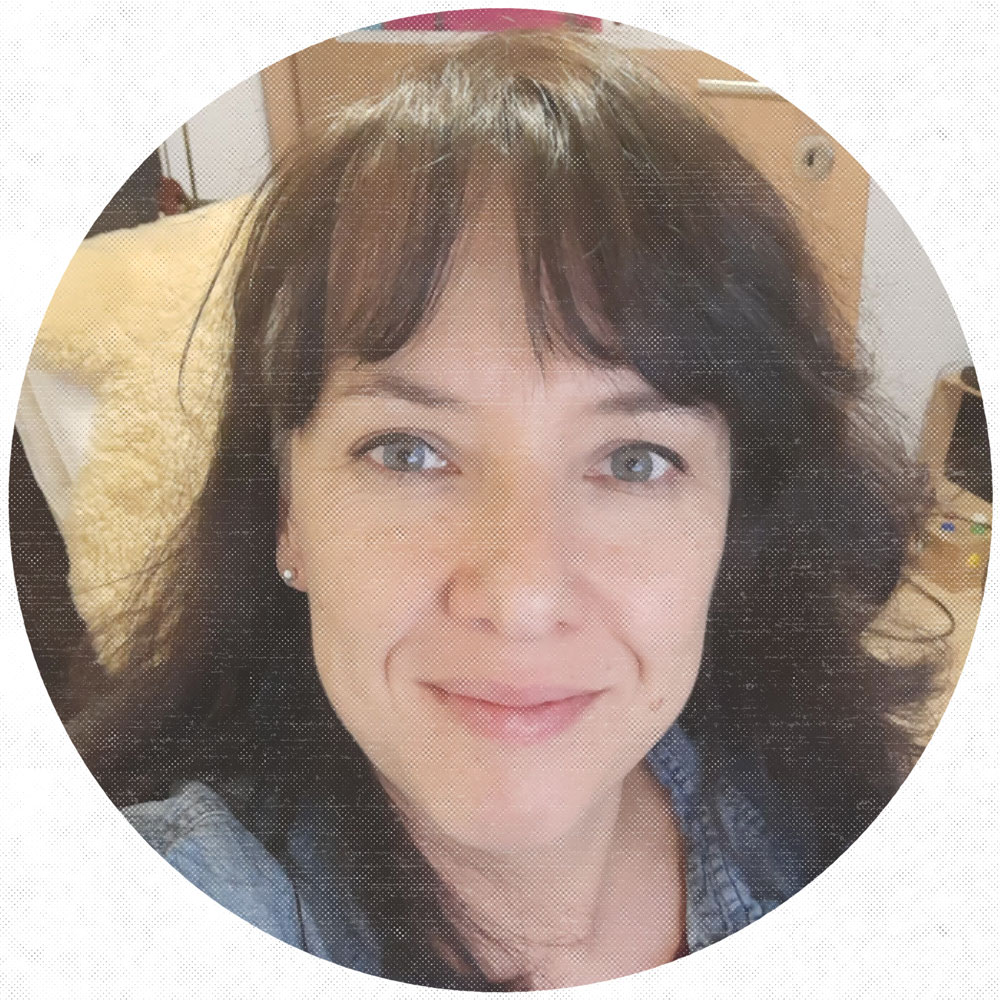 Katrin raised her rates nearly 2X
"Until now I charged 60 EUR per hour for my services. I had been fiddling with Brad's pricing calculator, and it spit out a recommended rate of 105 EUR. I took the plunge and sent a quote based on an hourly rate of 105 EUR. They accepted. Just like that! Guys, I'm so happy!"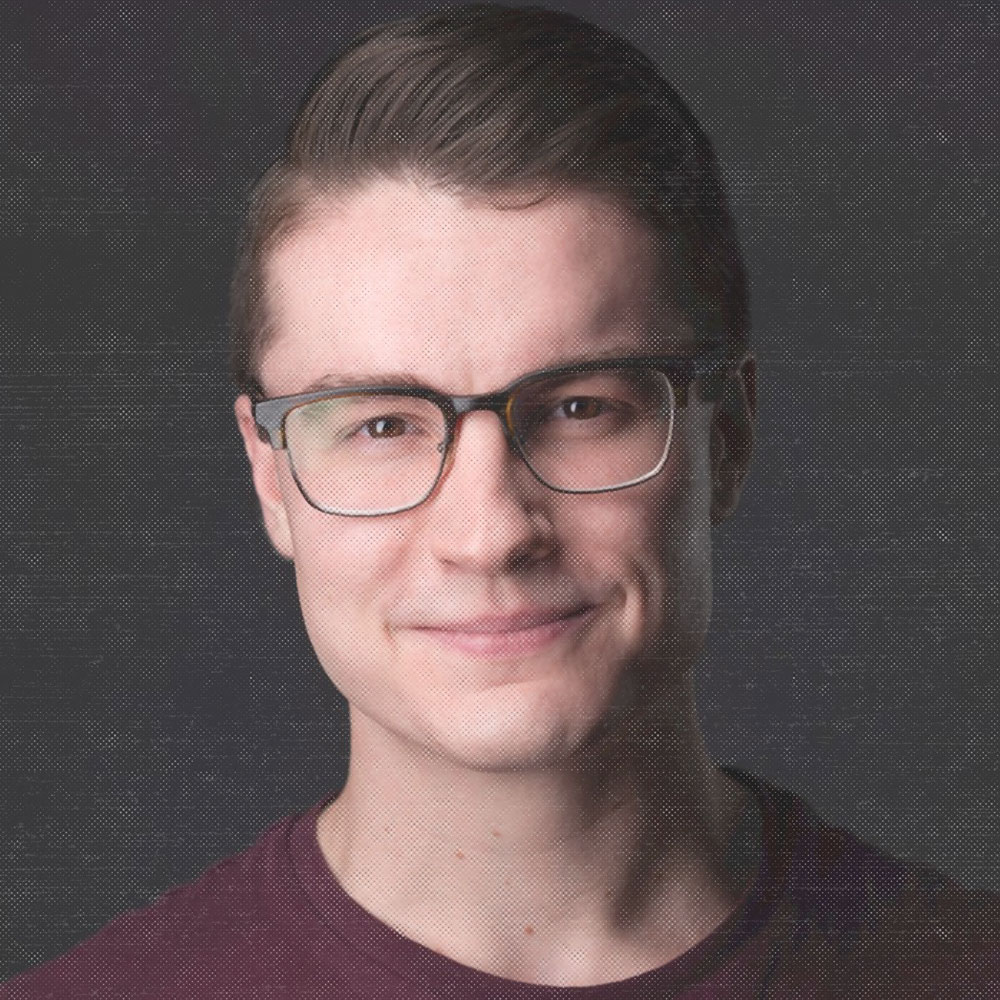 Matthew Pierce, Developer & Founder of DevForDesigners
"Brad, it's hard to believe how much I've been undercharging!"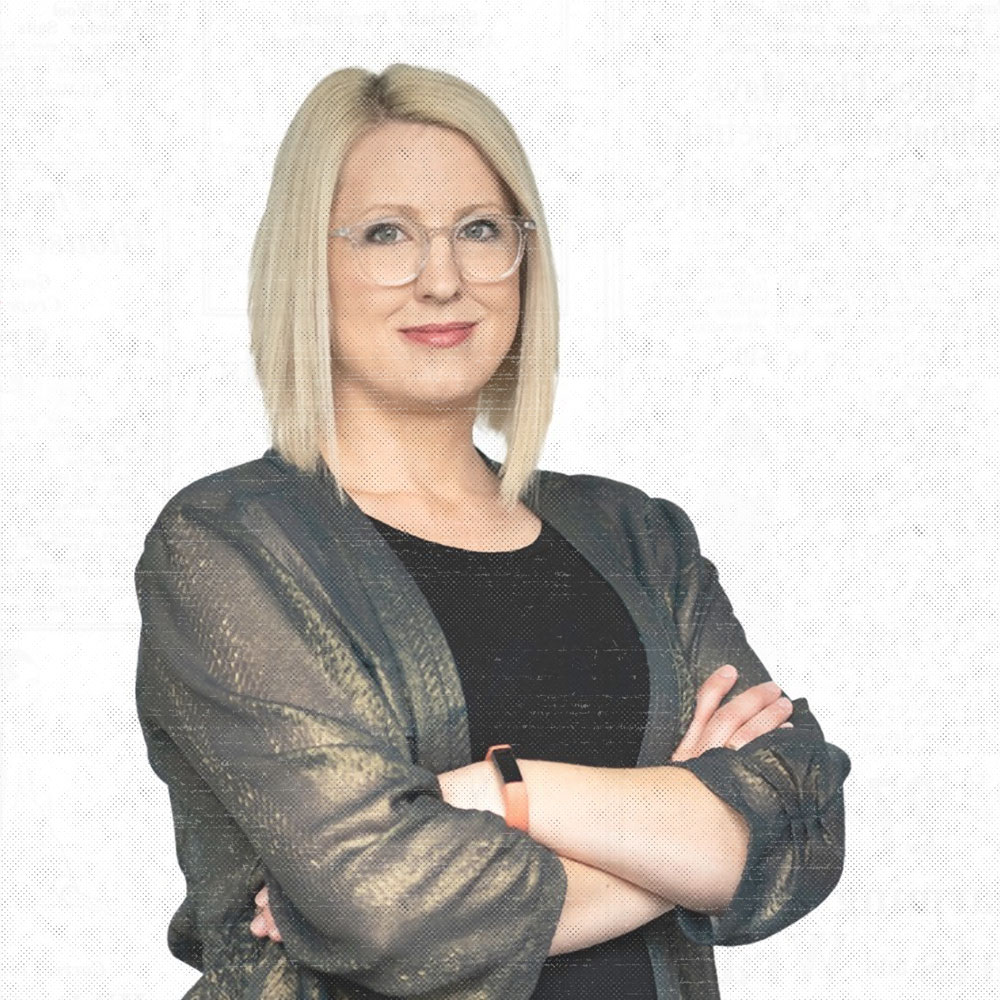 Lindsay Basset, Developer & Consultant at Next Galaxy Studio
"High-quality audio & video. Incredibly good lessons, both inspiring and practical. The workbooks by themselves are worth the cost of the course. Holy smokes, I wish I had this course 5 years ago when I first began freelancing!"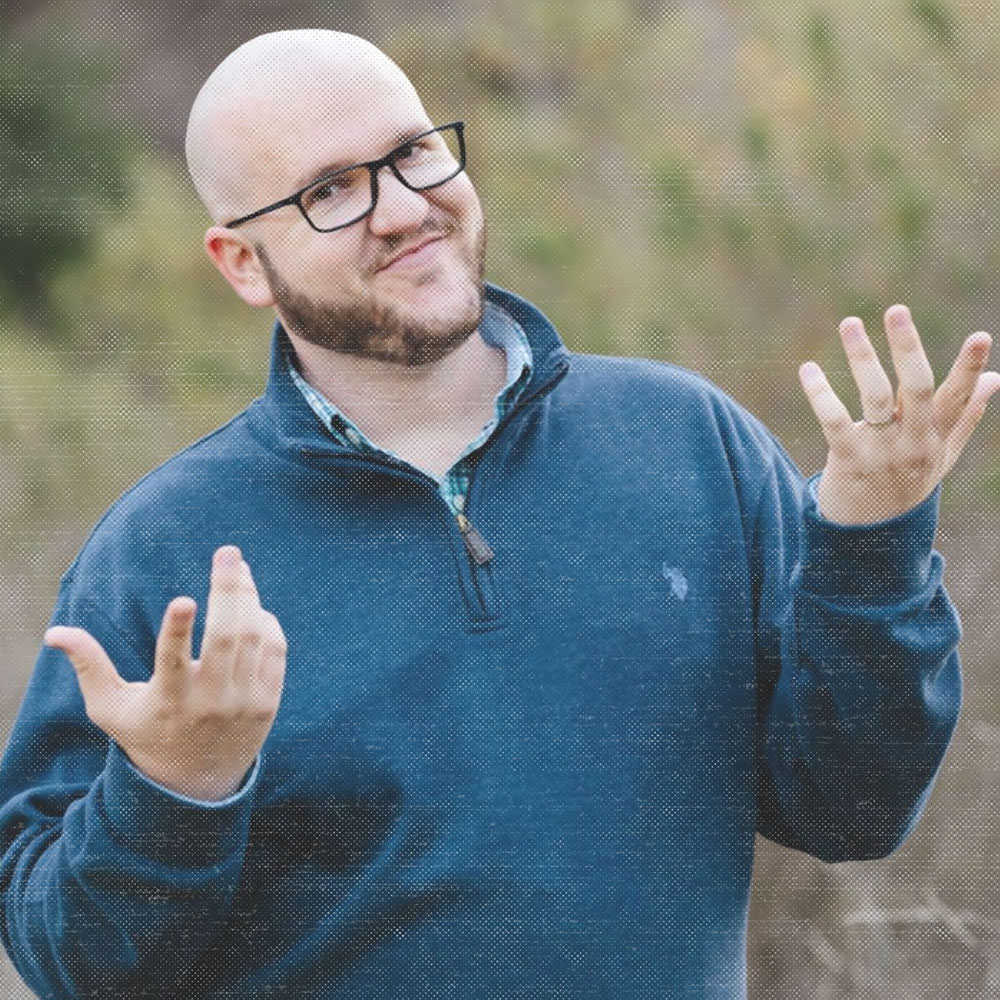 Aaron Robertson, designer & host of The Creative Crossing
"Brad is, like, the best thing you could have in your freelancing corner. Brad's the #1 guy to go to. He's unique and genuine — and that's what you want in a mentor, friend and a teacher."
James Madison, Precision Machinist
"I have put some of the material into use! I have refined my niche, and the time management elements have paid for the course 5X over."
Frequently Asked Questions
Didn't see your question here?
Email us [email protected]
Will this course work for me if I don't have any business experience, and lack confidence & time?
I engineered the Launch Course with the beginner in mind. Our approach is to build you and your business from the ground up, leaving no stone unturned. If you have the desire & drive to start a business, but you don't know where to start, your confidence level is low, and you're short on time — you're in the right place!
Modules 1 - 3 are designed to hold your hand through the process of "starting from scratch," and you'll begin to notice an increase in confidence as you start to see results in your efforts.
As for lack of time? That's the #1 objection we hear from everyone. We teach you how to employ a technique we call the "Performance Audit" in which you'll re-order your schedule to prioritize your success, and we'll show you how to create "Success Systems" that create a "no-fail" environment to grow your business — even if you only have a couple of hours per week to spare.
Outside of that, if you still you believe you don't have time to commit to changing your life — your priorities are not aligned with ours, and you may not be a good fit for the course (or entrepreneurship, for that matter).
Who is this course for?
This course is for anyone who wants to start a business from scratch, based on their passions and talents. It teaches you how to build a service-based freelance business around your specific craft — whether you're a creator, a coach, a coder, or a human resources consultant. Our students run service-based businesses as copywriters, bloggers, web developers, designers, filmmakers, marketers, HR consultants, coaches and more!
How long do I have access to the course?
How does lifetime access sound? After enrolling, you have unlimited access to this course for as long as you like - across any and all devices you own.
Is this a coding course for web developers?
No, there will be zero coding in this course. This is not a web development course.
What if I have no clients or experience?
Whether you have experience as a freelancer, or you have absolutely no experience at all — the way I designed this course will ensure you see results in YOUR specific freelance business.
How much time do I need to dedicate to this course to see results?
I recommend you dedicate at least 3 - 5 hours per week. This includes watching the course content, filling out workbooks, and most importantly, applying what you've learned in your actual freelance business — that means, getting yourself out there, sending the emails, calling your leads, and doing the work.
However, if you're so busy that you can only dedicate a minimal amount of time to the course, that's okay. You'll have lifetime access to the course, and even if you can't spend time each week on a module, you'll be able to come back to it when you have time. It's up to you, really.
Do I get access to all of the videos and lessons at once?
The course is designed to keep up with your preferred learning pace, and every time you complete a lesson a new one is unlocked. Whether you binge a few lessons at once, or you wish to take your time, you get to decide.
How long do I get access to the private community?
Upon joining, you will be granted a free access to our Private Community for 1-year on MightyNetworks. Afterwards, the membership fee is just $99 per year to stay within the community. This helps us protect the integrity of the community and those who are committed to growth in their business.
Will I get access to updated content and material?
Absolutely! You will get access to anything and everything that is added to the course over time. Your feedback throughout the course, your questions, your attendance in the live Q&A sessions will help shape future material, and you'll always get access to the new material within the course.
Will this course be offered anywhere else?
No. This course is only offered at FreelancingFreedom.com. I'm doing this to protect my students, the integrity of the course, and to ensure that the only students who take this course are serious about success as a freelancer.
I can't afford the course, but I'm confident it will help me improve my situation. Do you offer scholarships?
First of all, if you are in a financial situation that prohibits you from investing in this program, I strongly encourage you to enjoy my free webinars, live coaching on YouTube, and Blog content to help you get yourself back on your feet. However, if you can afford a Netflix subscription, a data package on your smartphone, and the pleasure of eating out once in awhile — you can afford the Launch course.
That said, if you see this course and trying to improve your future as an "expense," I encourage you to challenge that belief!
This course is meant to serve as an investment in your life, your business and your future. I'm giving you the system that I use to provide for my family, generate a healthy income and work from home doing work I love.
We also offer an affordable payment plan spread over 12-months so you can fit the investment into your monthly budget. We receive countless requests from people wishing to join our courses for free. Unfortunately, most of these requests are from people who will never put the content to use — tire kickers, pirates, or those looking for a free lunch. That said, we are a caring and compassionate team and we understand that you may be in a unique situation where you are confident the course will help you but the enrolment fee is just not realistic for you at this time. We offer compassion pricing on a case by case basis, and one free scholarship per month by application. Click here to apply.
What if I'm unhappy, can I get a refund?
We are confident that this course will be worth every penny of your investment. If you purchase this course and you change your mind within the first 30 days, you can return it for a complete refund. Easy peazy, lemon squeezy.
Even if you didn't touch the first lesson. Or if you don't like the sound of my voice. Or if your wife feels like you're hanging out with me more than you do with her (seriously, I've got that one before, too).
Just email us at sup[email protected] us know and we'll return your money.
Beyond the 30 days, if you feel the course wasn't worth the price you paid, let us know. We'll ask you a few questions, and you'll show us you've made a real, honest effort to put the material into action. If we can't help you, and you're still not satisfied, we'll return your money.
Do you offer a payment plan?
Yes, 12 payments of $100. Click here to enroll with this option.
What if I already have a business and I'm looking to grow? Is this only for beginners?
The Launch Course is a scalable system that works for beginners and experienced consultants alike. The Launch course is the exact system I use in my business to generate annual revenues of 6-figures and beyond. If you already have an established side-hustle and you're looking to take your operation full-time, Launch will possibly be the best investment you'll make in that transition.
If you're already full-time and looking to scale your consulting business, we offer a private coaching program to help you scale your business using our methods. Click here to book a call.
Yes, you do have other options.
You could spend countless hours, weeks, months — even years — reading endless blog posts, watching boring videos, and skimming book after book trying to figure out how and when to start your dream business...
Or you can join me — and 450+ other dedicated freelancers and service professionals in the course — and we'll show you exactly what to do, how to do it and when to do it.
When you join us, you get:
The course (12 modules of practical business training for freelancers)
The workbooks (Apply everything you learn)
The mastermind (Access to a valuable network, collaborators, accountability partners)
The group coaching (Live calls with Brad and the community, to help you make weekly progress)
The workshops (Learn the latest marketing & sales strategies for your business)
The bonuses (To accelerate your progress)
A guarantee that you'll love it, book clients and make valuable progress unlike ever before
All for an easy flat fee which you'll earn back with your first paid client (and we're in the business of getting you many clients… not just one).
So, are you ready to finally build your business with me and my community by your side, so you can experience the freedom you truly deserve?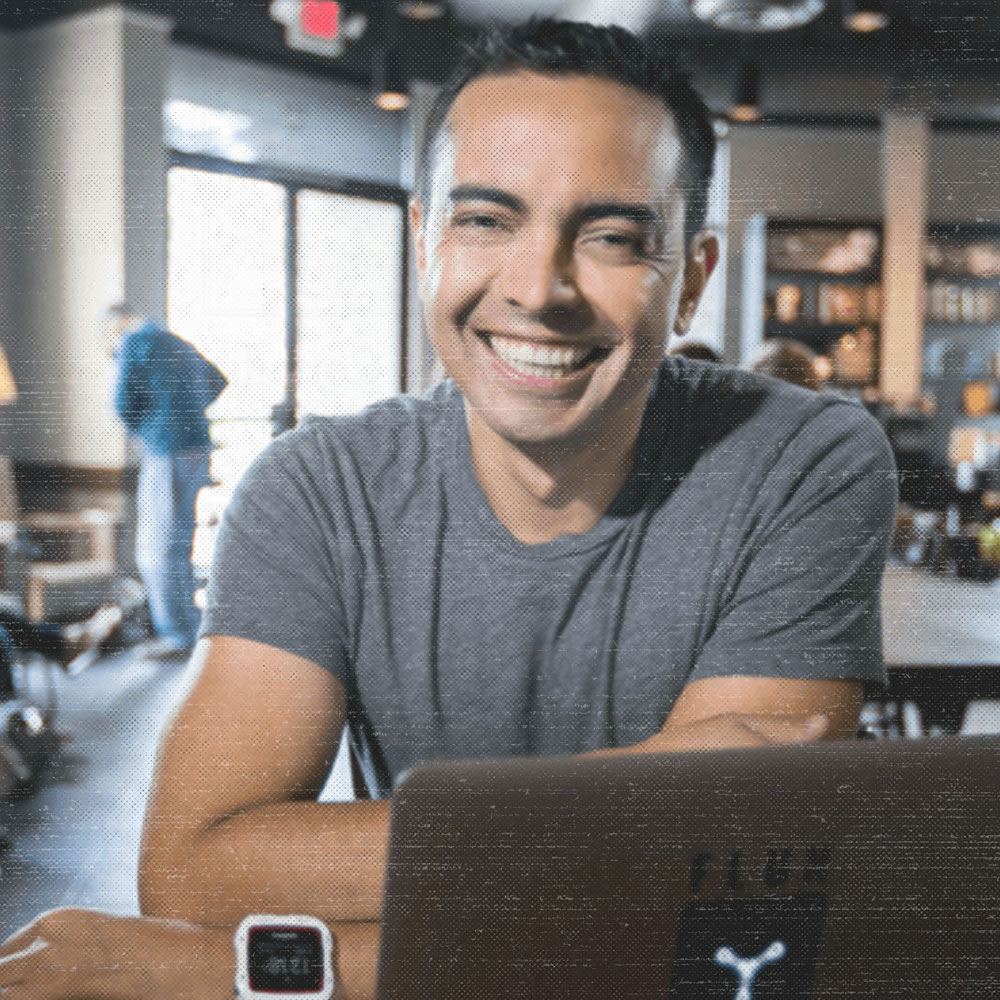 What experts say about freelancing
Freelancing is the number one way to get started with online business.
"If you are dedicated and put in the effort, freelancing is a great way to get your foot in the door of an industry or niche you're interested in. It's, quite simply, a great way to get started in business."
— Pat Flynn, New York Times bestselling author & founder of SPI